Hey everyone!!! This past Friday I was THRILLED to come home to a package from Color Club, containing 3 of their crackles from their 2011 Fractured Collection. I love surprises :) Kim & Beth sent me these 3 to try out, review and so I could show you guys! As we all know, crackle polish is HUGE right now, and I do also know that not everyone loves it, but I do, so I couldn't wait to play. I will say that silver crackle is a HUGE yay for me. Anyways, I'll get to the pretties.
Here are the 3 they sent me,
L-R
Clean Break, Broken Tokens & Smash Hit
I wanted to choose a color to use as a base for all 3 that would stand out, so I went looking for a red, and chose China Glaze Ruby Deer.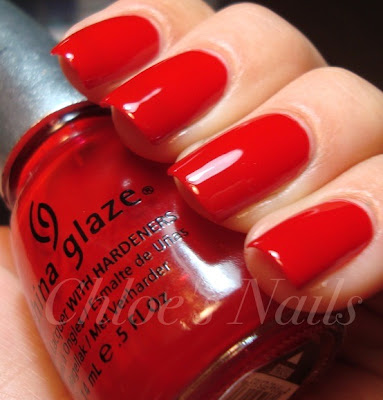 I then waited for that to dry completely, and did a fairly thin coat
of Broken Tokens. For larger cracks, just do a thicker layer, and for smaller, do a thinner layer.
I then re-did the red and used Smash Hit
and here is Clean Break
I then loved the silver shatter, Broken Tokens so much, that I chose it for my ALMOST pink mani, lol. So I started with 2 coats of Color Club Ms.Socialite
and then added Broken Tokens on top. Sooooo sparkly :) I got so many compliments through out the day, from strangers, on this mani :)
I have to say, I might actually prefer the Color Club formulas, to the rest so far. It wasn't as thick, and IMO, much easier to use/control. There are 3 more in this collection, a fuchsia, blue and gold. I'm excited to see the blue, and what shade it is!