Hey guys! Today I'm not only showing you a mani I love, but what inspired it. A friend of mine, Erica, or E2 as we call her, is a sales rep for Pampered Chef. Well for the month of May, yeah, I know I'm late, they are giving a dollar of every item, featured below, to The American Cancer Society's breast cancer awareness and early detection programs! The featured items are sooo freaking cute and all have pink and white zebra stripes on them. I of course had to get a few items. This post was meant to have been posted sooner but due to blogger and my computer failing, I'm a smidge late.
I am also sorry to say, that the Help Whip Cancer fundraiser is only open to US residents. Pampered Chef doesn't ship out of the US.
If you're Interested in ordering, you just have to go to her site
here
Erica has also offered to do a giveaway for the 2 polishes I used for my mani!! If you purchase anything, from below, please send me an email letting me know what it was, so we can keep track for the giveaway.
These are the items -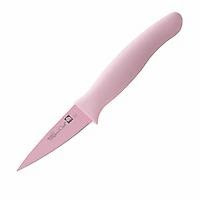 Pink Zebra High Heel Cake Server $17.00 and 5 drawing entries
Pink Color Coated Paring Knife $13.00 and 4 drawing entries
Pink Zebra Ceramic Spreader $10.00 and 3 drawing entries
Pink Zebra Microfiber Towel $8.50 and 2 drawing entries
As you can see after each item, is the amount of entries you will be getting for the giveaway.
Now here is the mani I did to match :)
I used 2 coats of OPI Mod About You for the base and Konad special white polish for the stripes. The plate I used was the Bundle Monster 223 plate. I just love how this turned out. So subtle but still so much fun.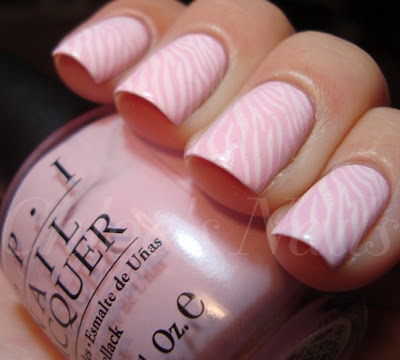 Hope you all are having a great week so far. I swear my bad luck hasn't been much better. My camping trip was canceled to due the fact it's going to rain all week and weekend, and our TV blew on Friday, GRRRR :(